All in the Family

Created by Norman Lear (based on Till Death Us Do Part, created by Johnny Speight)

Opening theme "Those Were the Days" Performed by Carroll O'Connor and Jean Stapleton
Ending theme "Remembering You" by Roger Kellaway and Carroll O'Connor (instrumental version)



Plot Summary::
The comedy revolves around Archie Bunker (Carroll O'Connor), a working-class World War II veteran. He is a very outspoken bigot, seemingly prejudiced against everyone who is not a U.S.-born, politically conservative, heterosexual White Anglo-Saxon Protestant, and dismissive of anyone not in agreement with his view of the world. His ignorance and stubbornness tend to cause his malapropism-filled arguments to self-destruct. He often responds to uncomfortable truths by blowing a raspberry. He longs for simpler times when people sharing his viewpoint were in charge, as evidenced by the nostalgic theme song "Those Were the Days", the show's original title.

By contrast, his wife Edith (Jean Stapleton) is a sweet and understanding—if somewhat naive—woman. She usually defers to her husband. On the rare occasions when Edith takes a stand she proves to be one of the wisest characters, as evidenced in the episodes "The Battle of the Month" and "The Games Bunkers Play". Archie often tells her to "stifle" herself and calls her a "dingbat". Despite their different personalities they love each other deeply.

They have one child, Gloria (Sally Struthers), who is married to college student Michael Stivic (Rob Reiner). "Michael" is referred to as "Meathead" by Archie and "Mike" by nearly everyone else. Mike is a bit of a hippie, and his morality is informed by the counterculture of the 1960s. He and Archie represent the real-life clash between two generations: those who were born around World War I and those who were born around World War II. They constantly clash over religious, political, social, and personal issues. For much of the series the Stivics live in the Bunker's home to save money, providing even more opportunity for the two men to irritate each other. When Mike finally graduates college and the Stivics move out, it turns out to be to the house next door. The house was offered to them by George Jefferson, the Bunker's former neighbor, who knows it will irritate Archie. In addition to calling him "Meathead", Archie also frequently cites Mike's Polish ancestry, referring to him as a "dumb Polack" (pronounced Polock).

The show is set in the Astoria section of Queens, one of New York City's five boroughs, with the vast majority of scenes taking place in the Bunkers' home (and later, frequently, the Stivics' home). Occasional scenes take place in other locations, most often (especially during later seasons) Kelcy's Bar, a neighborhood tavern where Archie spends a good deal of time and which he eventually buys.

Cast
Carroll O'Connor as Archie Bunker. Frequently called a "lovable bigot", Archie was an assertively prejudiced blue-collar worker. Former child actor Mickey Rooney was Lear's first choice to play Archie but Rooney declined the offer due to the strong potential for controversy and, in Rooney's opinion, a poor chance for success.

Jean Stapleton as Edith Bunker, née Baines. Stapleton remained with the show all through the original series run but decided to leave before the first season of Archie Bunker's Place had wrapped up. At that point Edith was written out as having suffered a stroke and died off camera, leaving Archie to deal with the death of his beloved "dingbat". Stapleton appeared in all but four episodes of All in the Family and had a recurring role during the first season of Archie Bunker's Place.

Sally Struthers as Gloria Bunker Stivic. The Bunkers' college-age daughter was married to Michael Stivic. Gloria frequently attempted to mediate Archie and Michael's arguments. The roles of the Bunkers' daughter and son-in-law (then named "Dickie") initially went to Candice Azzara and Chip Oliver. However, after seeing the show's pilot, ABC, the original production company, requested a second pilot expressing dissatisfaction with both actors. Lear later recast the roles of "Gloria" and "Dickie" with Struthers and Reiner. Penny Marshall, (Reiner's wife, whom he married shortly after the program began in April 1971), was also considered for the role of Gloria. During the earlier seasons of the show, Struthers was known to be discontented with how static her part was, frequently coming off as irritating and having only a few token lines. As the series continued Gloria's character became more developed, satisfying Struthers. Struthers appeared in 157 of the 202 episodes during the first eight seasons—from January 12, 1971 to March 19, 1978.

Rob Reiner as Michael Stivic. Gloria's Polish-American hippie husband was part of the counterculture of the 1960s. He constantly sparred with Archie (in the original pilot, the character 'Michael' was Irish-American). Michael's character was, in many ways, as stubborn as Archie, even though his moral views were generally presented as being more ethical and his logic somewhat more sound. For his bullheadedness, Stivic was sometimes criticized for being an elitist. While Archie demonstrated the lion's share of the hypocrisy, Michael had, on occasion, shown his own. As discussed in All in the Family retrospectives, Richard Dreyfuss sought the part but Norman Lear was convinced to cast Reiner. Reiner appeared in 174 of the 202 episodes of the series during the first eight seasons—from January 12, 1971 to March 19, 1978. Reiner is also credited with writing three of the series' episodes .

Supporting characters


Sherman Hemsley, Isabel Sanford and Mike Evans as George Jefferson, his wife Louise and their son Lionel, Archie's African American neighbors. George is Archie's combative black counterpart, while Louise is a smarter, more assertive version of Edith. Lionel first appeared in the series' premiere episode "Meet the Bunkers", with Louise appearing later in the first season. Although previously mentioned many times, George was not seen until 1973. Hemsley, who was Norman Lear's first choice to play George, was performing in the Broadway musical Purlie and did not want to break his commitment to that show. However, Lear kept the role waiting for him until he had finished with the musical. Plots frequently find Archie and George at odds with one-another, while Edith and Louise attempt to join forces to bring about a resolution.

Mel Stewart, as George's brother Henry Jefferson. Stewart filled in for Hemsley. The two appeared together only once, in the 1973 episode in which the Bunkers host Henry's going-away party, marking Stewart's final episode and Hemsley's first. Even when the Jeffersons were spun off into their own show in 1975, Stewart's character was rarely referred to again and was never seen. In the closing credits of the "The First and Last Supper" episode, Mel Stewart is incorrectly credited as playing George Jefferson. Stewart was actually playing George's brother, Henry Jefferson, who was pretending to be George for most of the episode.

Betty Garrett and Vincent Gardenia as the liberal and Roman Catholic next-door neighbors Irene and Frank Lorenzo. Irene was a strongwilled coworker of Archie's, and Frank was a jovial "house-husband" who loved cooking. Gardenia, who also appeared as Jim Bowman in Episode 8 of Season 1 (as the man who sold his house to the Jeffersons) and as Curtis Remply in Episode 7 of Season 3 (as a swinger opposite Rue McClanahan), became a semi-regular along with Garrett in 1973. Gardenia only stayed for one season as Frank Lorenzo, but Garrett remained until her character was phased out in late 1975.

Danielle Brisebois as Edith's 9-year old niece, Stephanie Mills. The Bunkers take her in after the child's father, Floyd Mills, abandons her on their doorstep in 1978 after Mike and Gloria moved to California at the end of the previous season. (He later extorts money from them to let them keep her.) She would remain with the show through its transition to Archie Bunker's Place.

Allan Melvin as Archie's neighbor and best friend Barney Hefner. The character first appeared in 1972 as a fairly minor character. Barney's role expanded toward the end of the series, after the departures of Reiner and Struthers. [edit] Recurring characters

James Cromwell as Jerome[6] "Stretch" Cunningham (1973–1976), Archie's friend and coworker from the loading dock. What Archie did not know was that Stretch was Jewish, evident only after Stretch died and Archie went to the funeral. Archie's eulogy for his friend is often referred to a rare occasion where he was capable of showing the humanity he tried so earnestly to hide.

Liz Torres as Theresa Betencourt (1976–1977), a Latina nursing student, who initially meets Archie when he is admitted to the hospital for surgery; she later rents Mike and Gloria's former room at the Bunker house.

Bob Hastings as Kelcy or Tommy Kelsey, who owns the bar Archie frequents and later buys. Kelcy was also played by Frank Maxwell in episode "Archie Gets The Business"

Jason Wingreen as Harry Snowden, a bartender at Kelcy's Bar who continues to work there after Archie purchases it and eventually becomes his business partner.

Gloria LeRoy as Mildred "Boom-Boom" Turner, a buxom, middle-aged secretary at the plant where Archie works, who is not initially fond of Archie due to his and Stretch's leering and sexist behavior, but later becomes friendly with him, occasionally working as a barmaid at Archie's Place.

Barnard Hughes as Father Majeskie, a local Catholic priest who was suspected by Archie one time of trying to convert Edith. He appeared in multiple episodes.

Lori Shannon as Beverly La Salle who played in three episodes. "Archie the Hero" "Beverly Rides Again" "Edith's Crisis of Faith"

Estelle Parsons as Blanche Hefner, (1977–1979) Barney's wife. Blanche and Archie are not fond of one-another, though Edith likes her very much. The character is mentioned throughout much of the series (though in early seasons, she is named "Mabel"), though she only appeared in a handful of episodes during the last couple of seasons.

A number of actors played multiple roles during the show's run:


Jean Stapleton played both Edith Bunker and Judith Klammerstadt in the episode "A Girl Like Edith". The end credits list actress "Giovanna Pucci" for the latter character. In fact, this is a play on words with Stapleton's married name: Jean Putch.

Vincent Gardenia portrayed neighbor Jim Bowman, who sells the Jeffersons their house in "Lionel Moves Into the Neighborhood"; Curtis Rempley, half of a wife-swapping couple Edith befriends in "The Bunkers and the Swingers" (from the show's first and third seasons respectively); and later had a recurring role as neighbor Frank Lorenzo during the 1973–74 season.

Gloria LeRoy played the wife of one of Archie's old Army buddies (Duke Loomis) in third season episode "The Threat" and later portrayed Mildred "Boom-Boom" Turner in a few episodes between 1974 and 1978.

Allan Melvin played New York Police Department Sergeant Paul Pulaski in the second-season episode "Archie in the Lock-up" and later played the recurring role of Archie's best friend Barney Hefner from 1972 on.

Marcia Rodd appeared in two episodes during the 1971–1972 season, playing two different characters, first as a single mother who accuses Mike of being the father of her eight-year old son in "Mike's Mysterious Son", and Maude's daughter Carol in the episode "Maude". (Adrienne Barbeau would take over the role of Carol on spin-off series Maude.)

Bill Macy first appeared as a uniformed Police Officer in the "Archie Sees a Mugging" episode before returning as Maude's husband in "Maude" (1972).

Roscoe Lee Browne appears as Hugh Victor Thompson III in "The Elevator Story" (1972) and then returns as Jean Duval in "Archie in the Hospital" (1973).

Burt Mustin played the role of night watchman Harry Feeney in the episode titled Archie is Worried About His Job. He came back later in a few episodes, as Justin Quigley, starting with Edith Finds an Old Man.

Sorrell Booke (who played Boss Hogg in the Dukes of Hazzard) played Mr. Bennett, the owner of a television station in "Archie and the Editorial (1972)" and then returned four more times as Mr. Sanders, Archie's boss down at the loading dock.

"Kelcy" or "Kelsey"
The name of the establishment is Kelcy's Bar (as seen in the bar window in various episodes). However, due to a continuity error, the end credits of episodes involving the bar owner spell the name "Kelcy" for the first two seasons and "Kelsey" thereafter, although the end credits show "Kelcy" in the "Archie Gets the Business" episode.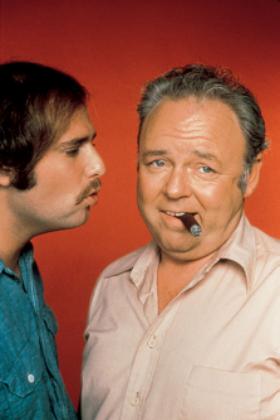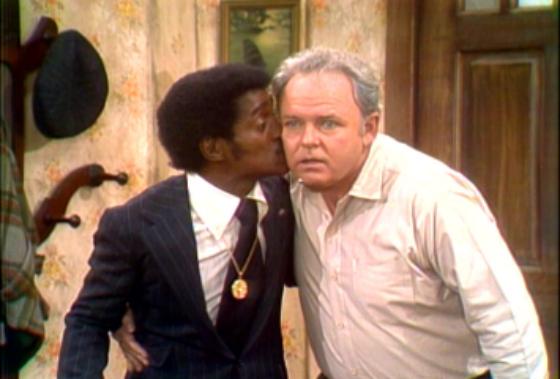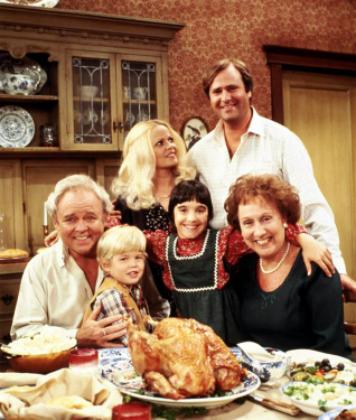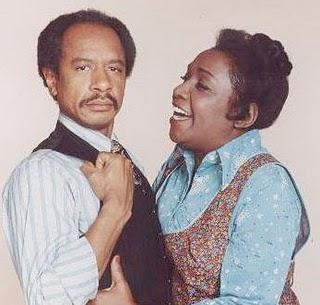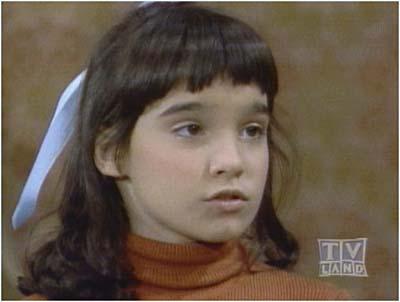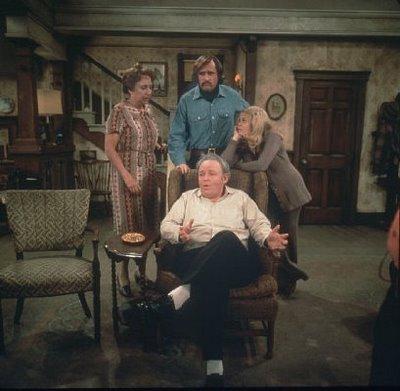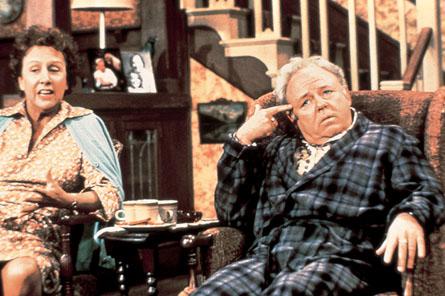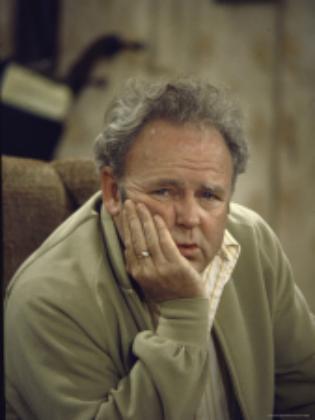 =============================
Back To Kaz's World